We manufacture a range of industrial filter fabric and technical textiles, used in various industries:
Conveyor belting cloth, canvas, endless belts, PU/PVC belts, sugar bags & balloons for confectionery and biscuit units.
Industrial Airslide / Aeroslide fabrics – Conveyor belts (Cotton, Polyester, PP, Nylon), in Spun & Multifilament varieties, used extensively for pneumatic conveying of fine & granular products, used extensively in infrastructure companies, Silos, Cement, fly-ash, lime industries, of thickness up to 12mm, and of various widths
Industrial Filter media – Filter cloth (Cotton, Nylon, PP, PolyCotton), Nylon & PC Satin for FBD, & PP Filter Presses, in Spun and Multifilament varieties, used extensively & regularly in Filter press systems and membranes, for Industrial system, in process technologies & filter presses – in filtration, treatment & separation applications for process engineering.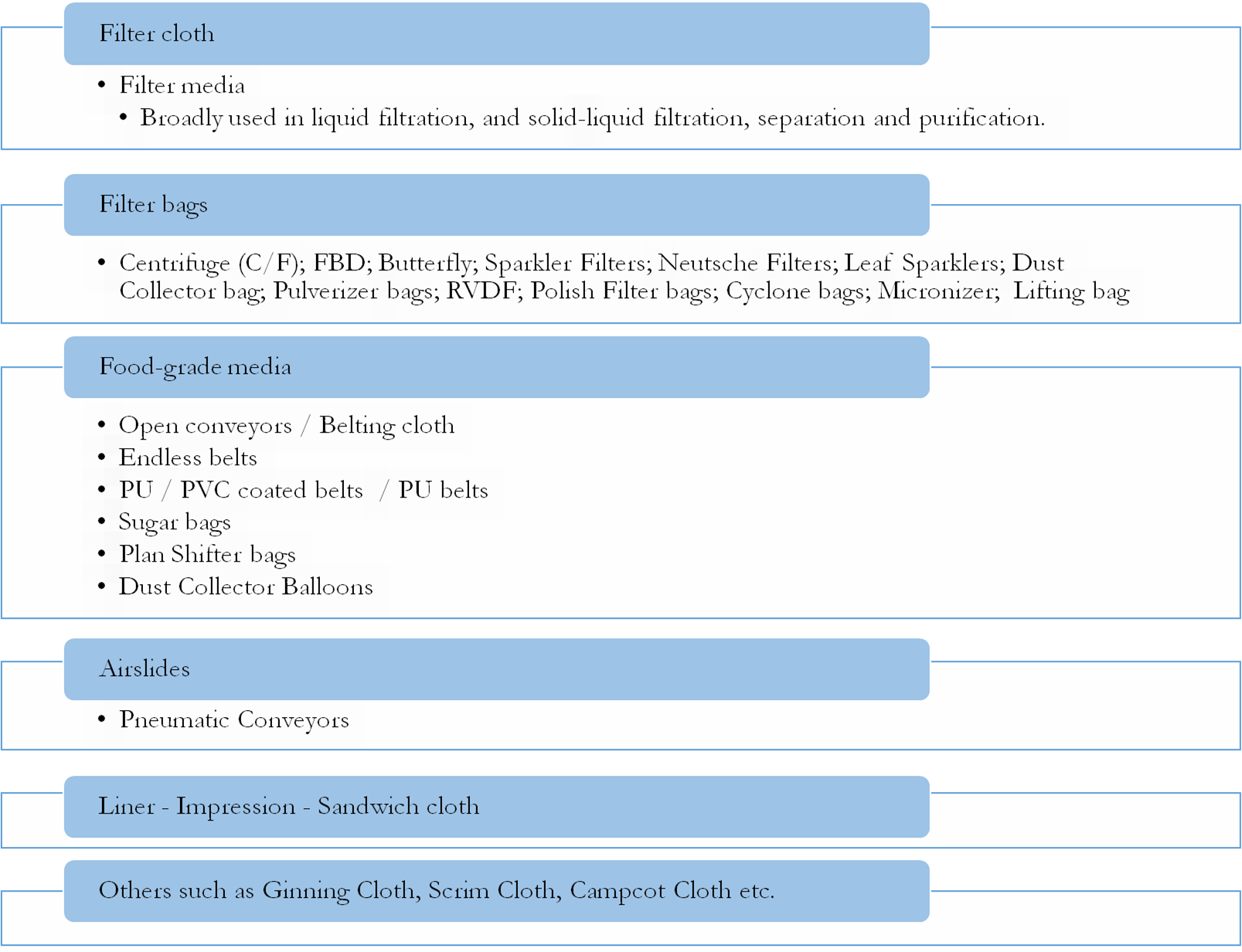 Filter Cloth
Constructed from cotton, polyester, PP, nylon, non-woven, etc.
Employed in industries for wet, solid-liquid, slurry filtrations, solvent extraction etc.
Used in industries such as:

Edible oil/ soya extraction/ Vanaspati
Pharmaceuticals
Starch and derivatives
Dyes, paints and chemicals
Fertilizers and phosphates
Soap and detergent manufacturing
ETP/ STP: Water treatment
Electroplating
Filter Bags
Filter bags, made-ups & filter accessories are used in various industries in filtration applications, to fit sophisticated and intricate equipment such as Centrifuges.
Centrifuge bags/ lifting bags

Used in various dimensions between 20″ – 60″
Used in separating slurry from liquid or to collect solids
With/ without collar
Fluid Bed dryer (FBD)

These bags are heavily used in Pharma / Chemical / Dye manufacturing to achieve target dryness in the material to be handled, using fluidization method.
Butterfly filter press

Plate/ frame filter press
Extensively used in liquid-solid separation methods
Leaf sparklers/ sparkler pads/ pressure leaf cloth
Micronizers with snap ring: pulverizers: lifting bags: bellow bags: cycle bags: RVDF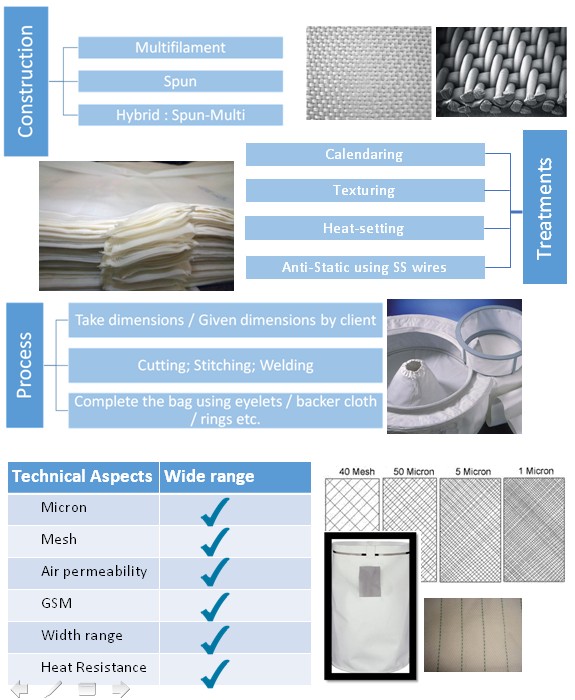 Conveyor Belts – Open Conveyors
Polyester, cotton, blended (polycotton)
In weaves ranging from plain-twill-satin
Used in various biscuit making and processing application such as cooling, rotary-moulding, cutting, pannier, stacking etc.
Dimension range: 1.3mm (for thinner biscuits) – 6mm
From smaller stacking widths of 6″ upto 75″ (W) for the bigger biscuit lines
We use the Ring Frame yarn spinner, which does not suffer from excessive elongation and shrinkage.
Conveyor Belts – Endless belts
Construction:

Blends of cotton and nylong
Blends of cotton, polyester and PC
Pure nylon (rotary moulder)
Pure cotton – post oven/ cooling
Dimension range

1.3mm – 2.5mm
Upto 65″ width
These belts are pieces, which are joint-less/ stitch-less and are fit directly into the biscuits line
Used typically in rotary moulding, cutting and packing
Conveyor Belts – PU/ Coated belts
The advantage of the PVC/ coated webs is that the oil that gets sprayed on ready biscuits gets retained therein/ absorbed by the media – that results in no-waste
The special woven/ textured weaves ensure no slippage
PU gets used in the dough feeding/ dough loading conveyor as well as the cutting and packing section
Airslides/ Pneumatic Conveyors
Used in cement/ alumina/ fly ash/ metallurgy plants, for granular transmission, using pneumatic means
Available in thicknesses upto 12″
Typically made from cotton and polyester
Liners, Sandwich and Impression Fabrics
Used in rubber and tyre industries
In adhesion and lining
MOC's include  PP liner, cotton liner
Food grade bags and balloons
Apart from Conveyors, a range of other ready Industrial bags used in Confectionery / Biscuit plants or Flour milling includes:

Suger bags – for sugar absorption, loading and unloading, confectionery plants
Plan shifter bags – used in flour-mills across transmission lines
Dust collector bags/ balloons etc. – for common dust collection – made primarily out of PP
Canvas
Made in various specs of 2/10 – 3/10 etc.
Used in rubber and tyre industries and retail/ consumer canvas made-ups
Scrim cloth and Camp Cot cloth
Scrim cloth – used in non-woven industry
Camp Cot – heavy usage in tents and cots – thick dyed canvas
Ginning cloth – Available in 2/3 ply – used in cotton ginning industry